Moonrise, Truchas, New Mexico
Starting about three A.M. (10/19/08), I've been working up some photos I want to work on like this homage to Ansel Adams from last week's travels in northern New Mexico. Nevermind why I am disgusted with the arc of my projects right now, but I really need to work on some photos that I care about. While organizing last week's take (see The Slowblog's entry about 8 and 16gb CF cards — we're talking several thousand shots), I realized that a great number of A-list photos from Wyoming from last year had never been worked up either (I'd only skimmed the cream for a first look, as shown on the year-old link on my home page). So there's still that to look forward to. And there are some in situ studioesque shots for a local jewelry designer for his new website, and some weddings to prepare for, and, well, there's probably still reason to pick up a camera tomorrow. I'll be back into it soon enough.
The photo above and the one below were made within a few miles of each other on the Paseo del Norte, the "High Road to Taos," which connects Española and Taos, New Mexico (sounds so much better than "State Route 76", no?). Both are multi-frame panoramas composited in "AutoStich" which, for my money (it's free) is the best photo-stitching code around (get it at autostich.net or buy one of the commercial products that incorporates its code). Only thing is, you need to convert from RAW before doing the stitch, so make sure you nail the workflow and the component images you want to use before turning AutoStitch loose on them. Faux Ansel up top was done with three frames, one below the horizon, one including the horizon, one above, to get the forest, the mountains and the Moon. (Canon 20D, 70-200mm F4L, iso 200, at 70mm) I'll do a better job of converting the raw data to monochrome when I upgrade to Photoshop CS4 (nevermind [11/16]: the new conversion will work a lot better as a print, but for the web, there's hardly any visible difference).
"Moonrise, Truchas, New Mexico" was made about 13 miles east of Adams's "Moonrise over Hernandez, New Mexico." An original print of that photograph lived just inside the door of the Center for Creative Photography in Tucson. I stuck my head in every chance I got while going to grad school in Arizona even if just to bask in the moonlight from that print. The location from which this photo was made (as well as its subject matter) is therefore contained in the Adams photo (I was standing on a foothill just about directly beneath the gibbous moon seen in Adams's photograph). So woohoo, now I'm getting all Eschery.
Anyway, while we're doing homages in northern New Mexico, let's not leave out Ms. O'Keeffe. That's her mountain, Cerro Padernal, above Abiquiu, that I hope you'll home in on in this 5-frame panorama:
It's about 27 miles west and a little north of my footprints. I've shot this panorama before, under very similar light, from almost exactly the same wide place in the paseo. I'm fascinated by how arresting Georgia's mountain is for being so small in that landscape. Is that prominence really a feature of this landscape or is it a factoid of art history peeking through and influencing my perception?
Here's another panorama. Nine or ten frames. In the original, you can read the street signs that are not even visible as bright specks on the left side of this thumbnail. It's another panorama I've shot before, made a couple of miles north of the frames above, from the verge just before the Paseo takes a hard left in uptown Truchas. Ever see "The Milagro Beanfield War"? I haven't, but Robert Redford filmed John Nichols's novel here and no one will let you get away from this part of the world without your knowing that. Until this trip, I thought a "milagro" was a kind of bean: pinto, lima, milagro... Let's call it another instance of art (the mere title of art in this case) influencing life. Or total ignorance. I get to pick.

The original is over 15,000 pixels wide. Here's a smidgen of the middle right portion, still much reduced:

After waving at Ansel, Georgia, and Bob, how about photos that are an homage to my future work? I'll tell you next time why I want to think hard about that, but today I promised no more wenging. Here's the ceiling of our room (#9) at the Old Taos Guesthouse B&B. I must have tried variations on this shot 50 or 60 times (yes, I could look, but the real number might be frightening, the way it's frightening when you see that Jack Nicholson has typed the same sentence over and over and over up in that snowy hotel in the Rockies). It's probably not the best of the bunch, but it's today's.
Finally, at the same B&B, this elegant cat decided to grace an archtypal (if you don't want to call your work a "cliché" try using the word "archtypal" instead) adobe compositon: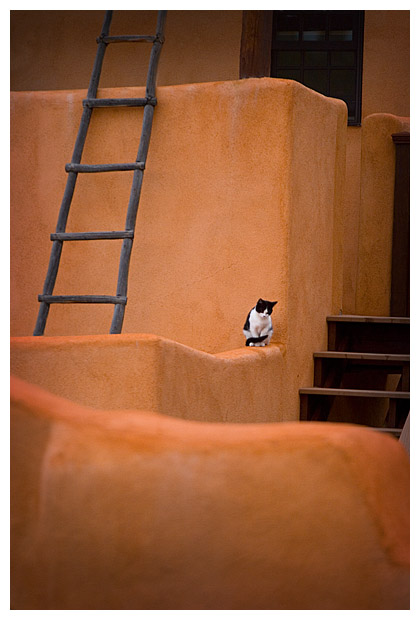 There's a lot more to come from the Paseo del Norte and environs, from Taos, from the Old Taos Guesthouse B&B, from the mountains and rivers and shops. Later.
Addenda...
[10/20/08] I put AutoStitch through some more hoops using some frames exposed off the north side of the Rio Grande bridge a few miles north and then a few miles west of Taos. This time I didn't use AutoStitch to make a huge, highly detailed view-camera class image but to cram an eyeful of landscape into an ordinary-sized image.

Amy and I got to the Rio Grande bridge way late, after the evening light had left. But, hey, that meant the last lingering light on the ground was very even and of an interesting color. I basically machine-gunned frames off the center of the span with the hand-held camera. Tripods are for wusses. Frames aimed below the horizon were 1/5 sec at iso 800 and F4.5 with the 17-85mm IS lens at 17mm. Sky-dominated frames were exposed for 1/60 second to retain cloud details in the brightest part of the sky. BreezeBrowser Pro converted and stored the lot as 800-pixel Jpegs, and AutoStitch laced 23 of those into the 180-degree photo you see below:

which, when judiciously cropped, burned and dodged becomes:

Try that with your 8x10, Ansel. Uh, sir.
:: back to the slow blog ::