9/1/2010: With two barlows (the TeleVue 2-inch plus an Orion shorty) the image scale was indeed generous. I standardized on a fixed exposure and run length (300 frames, 15 fps, 8 bits) and toured Copernicus, Eratosthenes, Plato, the Straight Wall and Clavius. As I got farther from the center of the lunar disk, glare became a problem. I'll try another 1.25-inch Barlow or try more extension instead of more glass. With the FL reduced to the same that I used yesterday, I repeated several subjects and added Kepler, changing to auto exposure as I moved out into the noonday Sun. I spent an hour (from 5:45 to 6:45) with the Moon very high in a much darker sky than yesterday's. The air was noticeably steadier. I covered the telescope and brought 18 captures inside on the netbook: an hour taking 6GB of data, then an hour and a half transferring it.




Evening shadows on the floor of Plato. Compare to yesterday's image. Note long shadows from mountains out in the Sea of Rains to the left. (Doubled barlow.)






Clavius.







Copernicus, chains of craterlets at center, the outline of drowned Stadius at the upper end of the craterlet chain, then Eratosthenes and the lunar Apennines. (Single Barlow)





Copernicus, a little bit closer now. Secondary craters and ejecta blanket. Terracing of crater walls, details in the floor. Twin barlows, revised wavelet processing.





Straight Wall with two Barlows. First, the glare in the second Barlow was the toughest part of the processing. Second, use histograms or auto-exposure when imaging in the dark. I severely underexposed this image because I misjudged how visible the image on the screen was: when it's dark out, it's easy to think a very dim image is adequately exposed. There are some processing artifacts well seen in this frame, light rings inside the crater walls. Play with wavelets settings to see if that can be minimized.






Same region with the TeleVue 2-inch Barlow only. Much crisper, no? The extra image scale isn't wasted, but it needs to be produced better than I produced it this morning.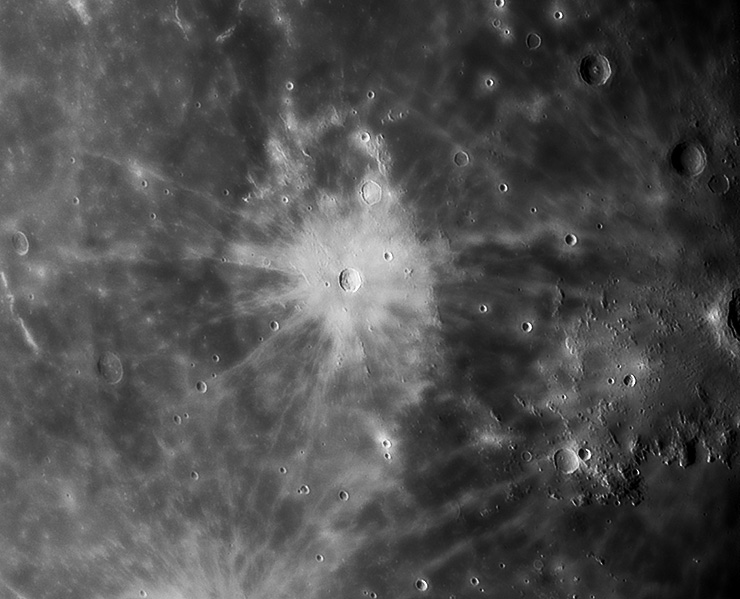 Splash! Kepler and intersecting ray systems.


In the afternoon, after reading some of Martin Mobberley on webcam processing with Registax, I tried some different wavelet settings and the results of the very first adjustment were spectacular. I've replaced a few images above with revised versions. And I am reminded how much more there is to try. Some linear features appeared during aggressive processing; these turned out to be the boundaries of regions which were aligned seperately in Registax. Setting the "feather" parameter to 5 or 7 or 10 pixels under the "Stack" tab took care of most of this. There are 1280-pixel, full-res versions of some of these images ready to share, but I'm just too beat to link them up right now, and I think there will be still better ones soon.
Tomorrow, sunset light on Copernicus and Clavius and low evening light on the Bay of Colors. C'mon back to see how that goes.