Mars Visits the Pleiades


12/17/2022. I got out the bird scarer to handle widefield photos while shopping and thinking hard (repair, replace, upgrade?) about the traumatically retired LXD55 (see page 240, scroll down to "Well, damnit!"). Normally, I would've used the 105 Sigma on that mount, but tonight I mounted the R6 and 85mm Rokinon on the Purus tracker. The Rokinon is much lighter than the 105 but neither as sharp nor as bright.
I only have about three hours to shoot this field between the time it emerges from the pines and sets behind more pines. Things started well, but tracking stalled an hour and fifteen minutes after I walked away from the camera, so I only got half the data I wanted. Work on the balance some. And keep shopping.


Mars, the Taurus Molecular Cloud, and the Pleiades
151x30s, R6 @ ISO 1600, Rokinon 85mm F1.4 @ F2.0
on Purivox clock drive.
You can make it big. But also look down below!

Next time: get it to roll longer and use the community lot or a broad road shoulder within the neighborhood. Six hours or so would be good.
2022/12/23. Shopping: A few days back, B&H Photo advertised a Celestron CGEM-II mount head for $299. WTF? Remainder? Mistake? Open and abused box? Incomplete? Well, it was more mount than I wanted, but the deal was too good. It would open doors other than the ones I've been banging on, but it could always be fixed up as needed and resold. I put it in my cart and paid for it, then wrote to ask B&H to check the order in case it was mis-priced. They duly shipped it, and the shipment duly arrived. It was not mis-priced, but it was, alas, mislabeled. What I received was a tripod and counterweight for a CGEM-II head, which was precisely useless to me. I started a return ("shipped wrong merchandise") and rebuilt the damaged-in-shipment outer box, and filled it with these 40-pounds of useless-to-me metal. B&H provided an RMA and prepaid shipping label in minutes, and it is on its way back home via FedEx.
In the meantime, I found on eBay a mount at the other extreme: a "barely used," not-quite-current SkyWatcher Star Adventurer with all the right pieces. It ought to get me out from under these trees. It's wonderfully portable, accepts RA-guiding, and is dirt simple (turn it on, it tracks; no alignment beyond aim the polar axis to the NCP, no wifi, no goto, etc etc). It should be more than adquate for any of my camera and lens combinations (some of them two at a time). It's not beefy enough for my solar outfit and I expect it to be marginal (at best) for the TMB92SS. Maybe it will work under that 'scope for eclipse duty. The AT65EDQ in NM would be a better match. So would some long-in-the-tooth telephoto lenses. I'll know more in a few or several days (it's coming by "parcel select" from Maryland, in the midst of the Christmas tide). Leisure in delivery is OK. My tick, tick, ticking bird scarer means I'm not entirely out of business until it arrives.
12/24/2022. A second try. For the record, it takes about two hours unde my skies with my toys to bring out the Taurus molecular cloud as anything but an absence of stars. Mars complicates efforts to shoot this on multiple nights, but it does not make that approach impossible. A little masking to keep only one Martian image at the expense of some exposure in part of the TMC yielded this: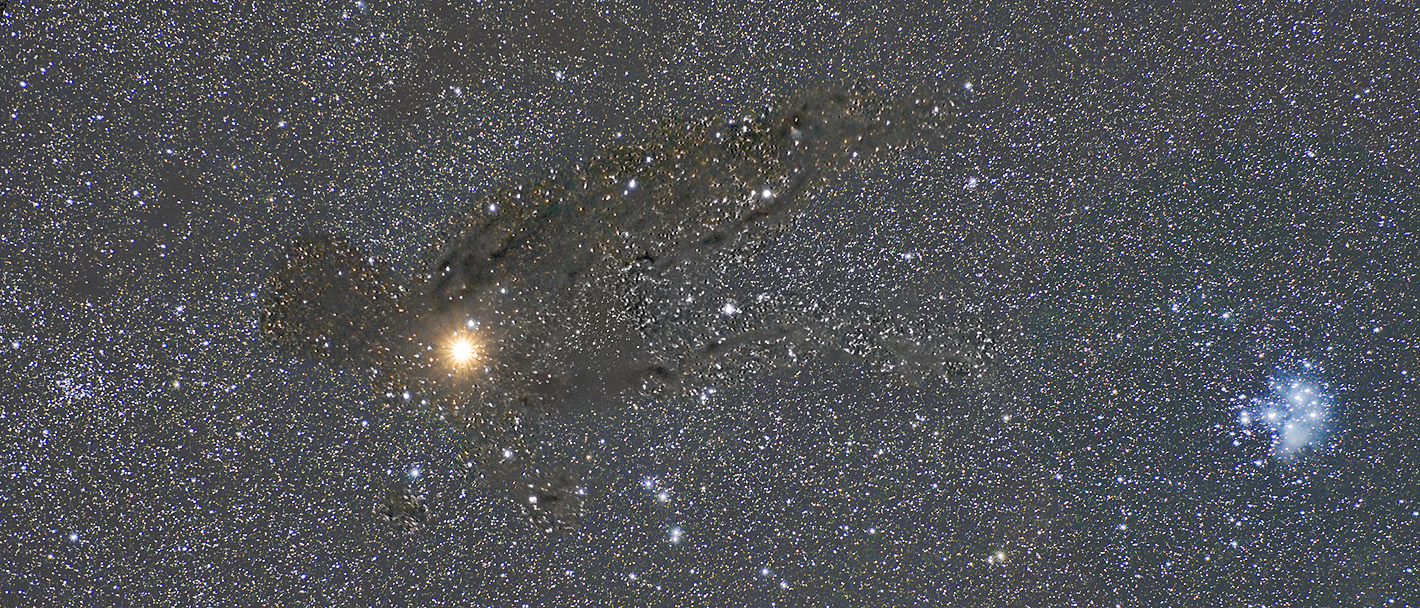 240x30s, other details as above.
Clicking will hugify the image.
The image is not without issues. The masking could have been done better; there are some superfluous stars. Also, for the one up top, the tracker quit early. In tonight's, there were a 5-6 trailed images to discard (out of 92), and then the camera battery called it a night long before I expected it to. I had Pixinsight align all the useful frames from two sessions 9 days apart.
Really, it's all practice and grooming expectations before putting the 105 to work when I can again deploy a more robust mount (two nights hence?). At that point, I'll make the extra effort to get a 4-5 hour single-night exposure from some nearby vantage.
Christmas night: I'm running the R6 / 85mm in the back yard again on the bird-scarer, this time with a small weight attached to help insure that it's rotating "downhill." Meanwhile, the AT10RC is focused on IC 2087, a small part of the TMC.
And another thing: the R6 batteries are being exhausted very quickly of late. It may have to do with the EOS mount 85mm Rokinon and the Canon EOS-R adapter. I'm getting only 1.5-2 hours under the sky, and batteries get depleted even with the camera off after a couple of days. Is it the lens, the adapter, the combo, or some setting I've slipped up and mis-set? I don't recall any similar issue with other configurations.
Well, this night just gets better 'n better: I left the lens at F1.4 from focusing it. And it wasn't especially well focussed, either. So I'm stacking 96 images (again, far fewer than I wanted and expected), such as they are. And... forget it. Not worth anyone's bandwidth. I actually deleted the data. On the other hand, the tracker stayed at it (the extra weight likely helped), and the AT10RC got something nice of IC 2087, a bright bit deep in the molecular cloud where a star is trying to peek through. This presentation of the data may be too dark and overly flattened in favor of taming a field full of both real and artifactual gradients:

IC 2087, AT10RC, ASI 1600MM, cropped.
44x180s L, 10x180s R and B, 8x180s G (total: 3h 36m)
Not a lot to see, but you'll see more of it by clicking.
Dreyer added the "Little Flame" nebula in the 1908 supplement to his 1895 Index Catalog. I haven't found a source that indicates who actually found it.
I'm thinking that I ought to standardize on a slightly longer EFL for the AT10RC. Compressing it to 1200mm leaves the corners of the ASI1600 a little too dark for comfort and just beyond my ability to completely flat them out. 1400mm, perhaps? And clean the filters!
12/26/2022. I auditioned Russell Croman's BlurXterminator plug-in for PixInsight, mostly just to see if my somewhat "mature" i7 Win10 machine would run it. It does. The utility has been getting rave reviews throughout the astro-imaging community. Deservedly so! When it works, it really works. I reprocessed the photo at the top of this page. Beginning with the stacked .TIFF, I stretched it very modestly, then applied BlurX, then I used the PI utility "dark feature enhancement," saved the result, opened it in Photoshop, did a gentle synethetic flat pass, then got serious with curves. I cropped the outer 10-15% since there were some gradients out there that I didn't want to mess with.
Smoky Mars? Mars photobombs the Taurus Molecular Cloud? Not bad for 1h15m from my back yard, darks but no flat frames, with my second-string lens, and a wind-up tracker, eh?
Click it for a higher rez version. The bigger file
is 1.8MB, and it's worth all of 'em. I promise!
12/27/2022. The USPS estimated that my new-to-me tracking mount would be here today. I didn't entirely believe it, as it is coming from Maryland "parcel select." The original delivery guestimate said as late as January 3 or 4. January 6 would not surprise me. Indeed, it appears to stuck in Greensboro. How much more would "priority mail" have been? I may need to find that out just to know whether to be irritated or not.
Two other items are in transit (it was kind of an acdident). From B&H is coming a used Rokinon 500mm F6.3 mirror lens with which to stress-test and refine the tracker. I expect it will also see DSO work on the A-P if not on the tracker. I think it may do some eclipse duties in Texas. For the price, it's well worth a try. A Canon PR-E1 USB power supply for the R6 is enroute from eBay. It will keep the camera running overnight with no questions asked in the back yard, and it may perform remote duty, too, depending on this and that. More about all that soon. [12/30: The Rokinon arrived when promised via Fedex home delivery; the power supply a day early via 1st class parcel service; the tracker is still sitting in Greensboro.]
:: top ::